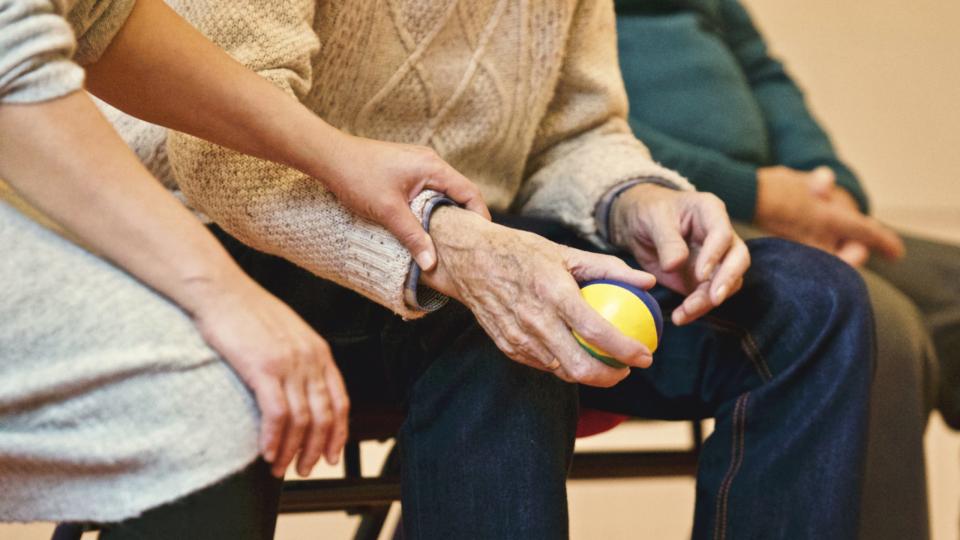 The Ultimate Alzheimer's & Dementia Caregiver Health Guide
The role of the caregiver is key to the quality of life experienced by loved ones as they progress through the stages of dementia. Unfortunately, it is all too common for caregivers to neglect their own well-being, and the results can be catastrophic for everyone involved.
This guide is tailored specifically for family caregivers of people with dementia. A family caregiver does not necessarily have to be a relative. You could also be a close friend. For our purposes, a family caregiver is anyone who cares for a loved one with dementia at home. Professionals may also benefit from some of the information within, but they generally have already had an abundance of training to prepare them for their duties.
Unlike professionals, many family caregivers find themselves in a situation for which they are not prepared. Alzheimer's and other forms of dementia are complex conditions that are progressively debilitating and can be unpredictable in many ways.
Despite the chaotic nature of the condition, there are some generally accepted patterns that are expected to emerge in many dementia cases. As a caregiver, you can use this knowledge to better prepare yourself for the future, safeguarding your own health and enhancing the experience for the loved one under your care.
We will use a loose timeline to discuss how caregivers can maintain their own health as their loved one's dementia progresses. You may be tempted to skip ahead to the stage that matches your own experience, but it would be beneficial to start reading from the beginning in case some earlier advice still applies to your situation.
Phase 1: Initial Diagnosis
The best case scenario for any dementia case is to receive an early diagnosis. This allows for the most time to have the cause confirmed, receive treatment, and begin planning for the future. It is recommended that anyone at risk for dementia receives regular professional assessments or completes self-assessments using a tool like the BrainTest® app.
Phase 2: Discussion and Planning
Breaking the Ice
It can be intimidating to initiate a discussion about dementia with a loved one who has been recently diagnosed, but open communication is absolutely critical. Despite the uncomfortable nature of the subject, a lot of stress can be prevented by establishing a dialogue about care needs early in the development of the condition.
You will notice that stress reduction is mentioned at several points throughout this guide, and with good reason. The impact of chronic stress on physical and mental health cannot be understated, and it is a major cause of lasting problems for family caregivers of loved ones with dementia.
There are a few ways to help make the first conversation easier:
Take their personality into account. Ease into topics that might be more difficult for the loved one, like being cared for by a person of the opposite sex if they have traditionally conservative values.
Empathize with them. Try to put yourself in their position and pay attention to the feelings that they might be experiencing. Reassure them that you understand their concerns.
Be realistic, but not pessimistic. A good rule is to hope for the best and prepare for the worst. Receiving a dementia diagnosis can be devastating, but they can still make the most of their time before the symptoms become too severe. Try not to focus exclusively on the dark side of the situation.
After the subject of your loved one's initial diagnosis has been broached, a good strategy is to make a list of the topics that will need to be discussed as their condition progresses.
These do not all have to be covered in a single discussion, and in fact, some people may benefit from extra time to digest the information. It is important to perform as much planning as is possible before dementia symptoms make it difficult for your loved one to participate. Having their approval regarding a long-term care plan will provide you with some much-needed peace of mind throughout the process.
The exact contents of the list will vary from person to person, but we will provide you with some of the most common topics that may need to be covered.
Financial Management: Who will pay the bills and how are they to be paid? What care expenses are expected and how will they be paid for?
Legal Considerations: Who will have power of attorney when they are incapacitated?
Home Management: How do they want the home cleaned/arranged/operated?
Product Preferences: What do they want for meals, cleaning products, toiletries, etc.?
Family Care Limits: Would they rather a professional comes into the home to perform certain tasks, like bathing? Is there a certain point in the progression of the illness that they would want to be placed in a long-term care facility? These are very important questions that may require a lot of thought.
End of Life Planning: Another difficult but important topic. Plans should include legal aspects like a will, desired spiritual services, and any medical orders that may apply.
There are also several things that, as a family caregiver, you will need to plan for on your own. Again, the process itself may be stressful, but early planning will pay off in the long term by shielding you from common sources of chronic stress.
Personal Finances: Will you be able to stay employed while giving care? How will income be supplemented when maintaining a full-time job is no longer possible? Is government funding available?
Potential Support From Family and Friends: Who would/can assist in helping provide care? Which part(s) of the process is each person comfortable with? Is the loved one receiving care comfortable with them as well?
Social Priorities: Family caregivers are understandably under a lot of time constraints, but you should try to pick one or two social activities that you enjoy and try to maintain them. This is where a substitute professional caregiver or help from family/friends can really come in handy.
Moral Support: Who can you turn to in a time of personal crisis? Everyone needs someone to talk to from time to time. It could be a therapist, friend, family member, spiritual leader, or a support group. Finding a reliable shoulder to lean on is a great way to protect your own mental health.
With the proper planning in place, family caregivers can avoid many of the health problems that may result from excessive stress over the course of the disease, like heart issues, mental health disorders, and social dysfunction.
Phase 3: Early Dementia
If the diagnosis is made early enough, then your loved one may not need a lot of care for the following few months or even years. This is an ideal time to make sure that all discussion and planning requirements are met and to help them accomplish any personal goals they may wish to tend to before their symptoms worsen.
Relatively minor cognitive symptoms (memory loss, changes in judgment, a decline in reasoning, etc.) are typically present during this stage, but not often to the point that they impair functioning on a regular basis. Your loved one may only need gentle reminders or suggestions from time to time in order to maintain their usual lifestyles. Others might need help with home management and financial tasks or transportation as their ability to drive deteriorates. Most personal care needs are not of the physical variety during the earlier stages of dementia.
Caregiver Health Precautions
Keep Good Habits
The biggest threat to caregiver health when caring for someone with early-stage dementia, other than stress, may be the development of bad habits. It can be easy to forget about yourself when most of your attention is focused on the well-being of a loved one.
Eating and sleeping schedules are particularly prone to disruption, setting the stage for serious medical problems in the future. Concentrating on the establishment of healthy habits during the earlier stages of dementia will provide you with a good foundation for maintaining your health in the future.
Home Safety Preparations
A safe home is important for the health of both family caregivers and loved ones with dementia. Problems with balance and vision are common as the disease progresses, and eventually, your loved one will need to be physically assisted and/or carried within the home to accomplish daily activities.
Obstacles like clutter, sharp edges and floor transitions pose a threat to everyone in the home and should be taken care of as soon as they are noticed. Safety modifications like grab bars and rails should ideally be installed before they become necessary so that they can prevent unexpected accidents. A little preparation can go a long way.
Phase 4: Late Dementia
The need for care tends to increase substantially as dementia progresses to the later stages. This can technically apply to both your loved one as well as you, as a caregiver, since it can become easier to neglect your own health as your loved one's condition worsens.
They will gradually become unable to perform basic tasks as the physical and cognitive symptoms of their disease become more severe. A severe drop-off in an ability can sometimes happen quickly and without much warning, depending on the type of dementia and other factors. You will find yourself responsible for more personal care tasks as time goes on, such as feeding, bathing, and assisting with waste elimination.
Eventually, if your loved one remains under family care after they begin to lose their faculties, they may become irritable, combative, uncooperative, or even violent. This unfortunate reality can make it dangerous and exhausting to perform personal care tasks like feeding, providing medication, and bathing.
Caregiver Health Precautions
Preventing Physical Injury
A lot of lifting is likely to be required as your loved one loses mobility, so it is important for all family caregivers to practice safe body movements (like lifting with the legs instead of the back) to minimize the risk of causing an injury to yourself or your loved one. Regular stretching can also help reduce the risk of being hurt while providing labor-intensive care. Additionally, it is advisable to "keep your chin up" when caring for someone who is potentially violent or prone to flailing limbs.
Avoiding Burnout
As care requirements become more intensive, it would benefit many family caregivers to take advantage of professional services that can provide you with some breaks. This will be especially necessary if you do not have a strong family support system to lean upon. Examples include home care services and respite programs. Finding time away from the caregiving role is pivotal in preventing burnout, which can otherwise lead to long-term exhaustion, depression, and other health problems.
Staying Active
In addition to maintaining healthy sleeping and eating schedules, family caregivers should give special attention to the amount of exercise you are getting as the situation progresses. While lifting and carrying can provide more than enough activity for a period of time, you may find yourself adopting a sedentary lifestyle if your loved one becomes bedridden. If this becomes a lasting habit, you would become prone to a wide number of health risks associated with a lack of exercise.
In Summary
The physical and mental toll of caring for a loved one with dementia can be enormous, but developing a care plan and remaining aware of your own well-being can reduce the overall impact to your long-term health as a caregiver.
Receiving an early diagnosis is a critical part of being able to properly prepare for being a family caregiver for a loved one with dementia, so it is advisable to promote early detection methods such as the BrainTest® app to those that you feel may be at risk. However, even if you find yourself thrust into the role without expectation or later in the development of the condition, this guide should provide you with some valuable tips to help safeguard your health while providing the best possible care for your loved one.
Subscribe & keep up to date on Alzheimer's, Dementia & more!